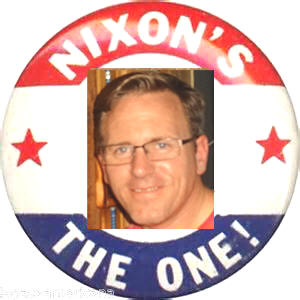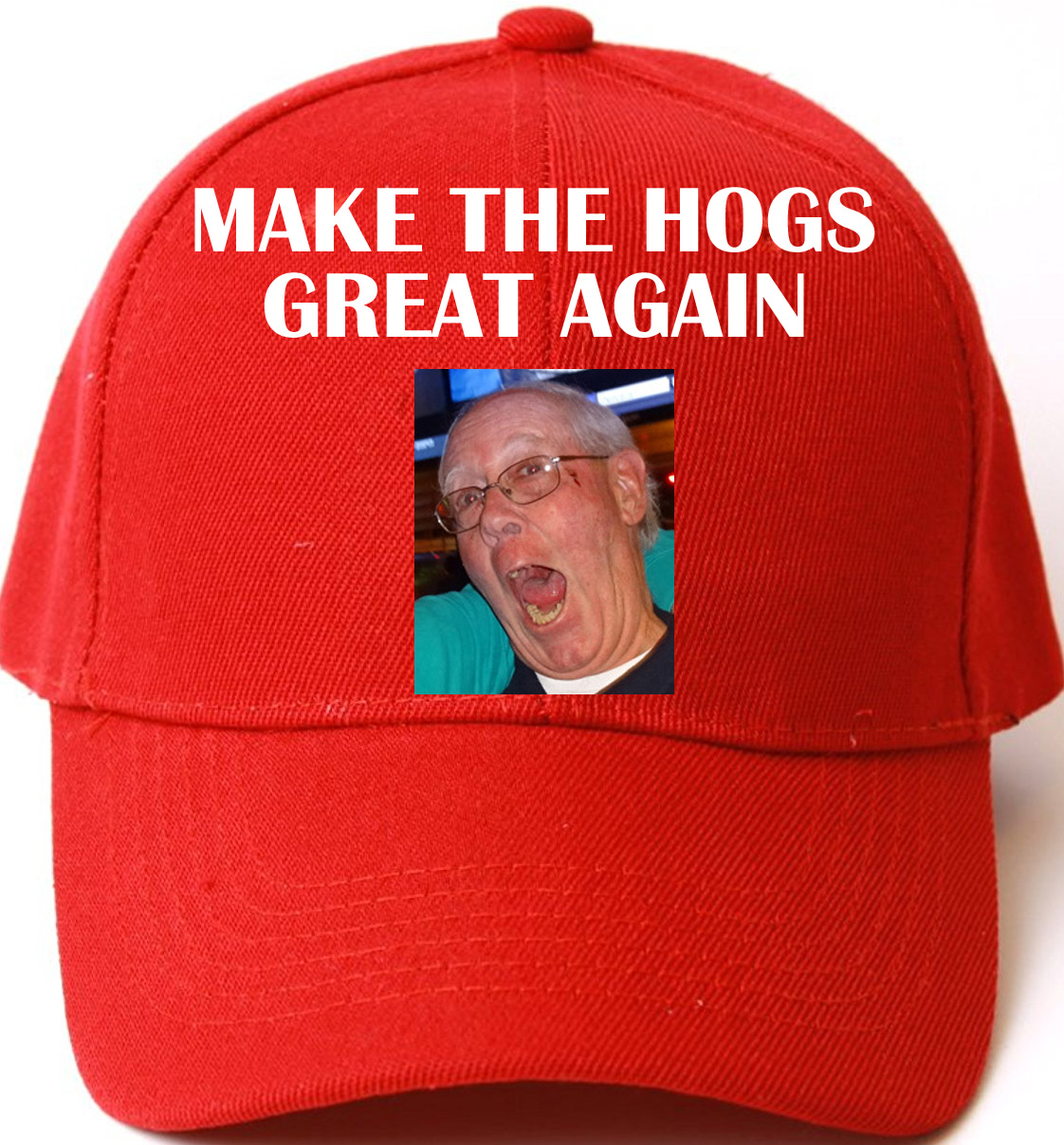 Excitement, election campaigns and controversy have greeted the first ever player vote for the Hogs Softball Hall of Fame. After the inaugural class of 2016 was selected by an executive committee of one, the uproar over the Macos selection drove Team Historian Zip to change to a more democratic, transparent process for the 2017 class.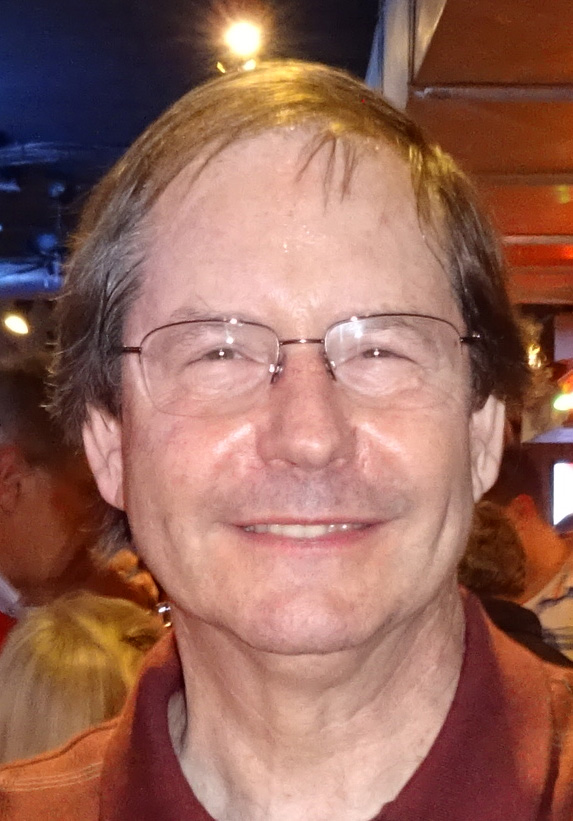 Executive Committee of One
Eleven candidates met the rigid qualifications of 10 minimum seasons and 350 minimum lifetime at-bats. Voting was opened to all current and retired Hog players. Despite these welcome changes, immediate charges of "the vote is rigged" were lodged by the usual suspects. An exasperated Zip confirmed, "Sure enough, Jill Stein is already up my ass about a recount."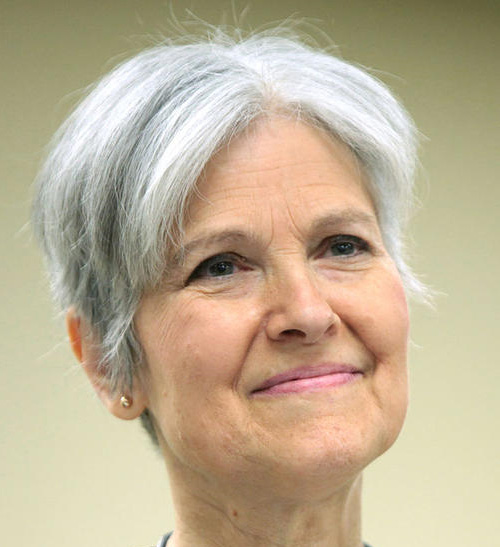 Up Zip's Ass
"To insure confidence in the HHOF voting system, I will release early voting results and will submit to a hand recount if necessary once voting is complete on Feb. 1, 2017." Here are the early voting results thru Dec. 9, 2016.
Although only 8 votes have been cast, early trends provide some indication of who might get in. It looks like the only sure-shot is Charlie Bloemer, winner of four MVHs, two triple crowns and lifetime leader in batting average, slugging pct. and OPS. On the cusp are Brandon Slavinski, Justin Centrella, Jeff Nixon, and three old-timers, Booze, Doogie and Spuds.
Early Vegas Odds
Early Vegas odds predict tough sledding for contenders other than Bloemer. Here's a summary of the election odds. Keep in mind that these are the same odds-makers who gave Hillary a 90% chance of winning the Presidential election.
Charlie Bloemer - Election Odds: 80%. A no-brainer for most voters due to his overwhelming stats. But some will note that a real Hog would never retire for bullshit reasons like kids or to play in another league. Many think he's just sitting on his lifetime batting average lead.
Brandon Slavinski - Election Odds: 50%. Helped by his active status and solid stats including ROY, two MVHs and two batting titles. But some wonder if he's headed the way of Pat Dixon with only two bar appearances in 2016. Should get his share of votes from current players but will need significant support from retired players to make it over the top.
Justin Centrella - Election Odds: 45%. Hurt by his sudden retirement to move to La La Land just before the Hogs became a two-time championship runner-up. People can't help but wonder if there was a cause and effect. Helped by solid stats and by his lineage to Hogs legend, Areno.
Jeff Nixon - Election Odds: 40%. Despite solid stats, appears to lack solid support from current players. Was it an accident that Nixon was omitted from the Hogs softball group picture recently taken at Hooters?We think not.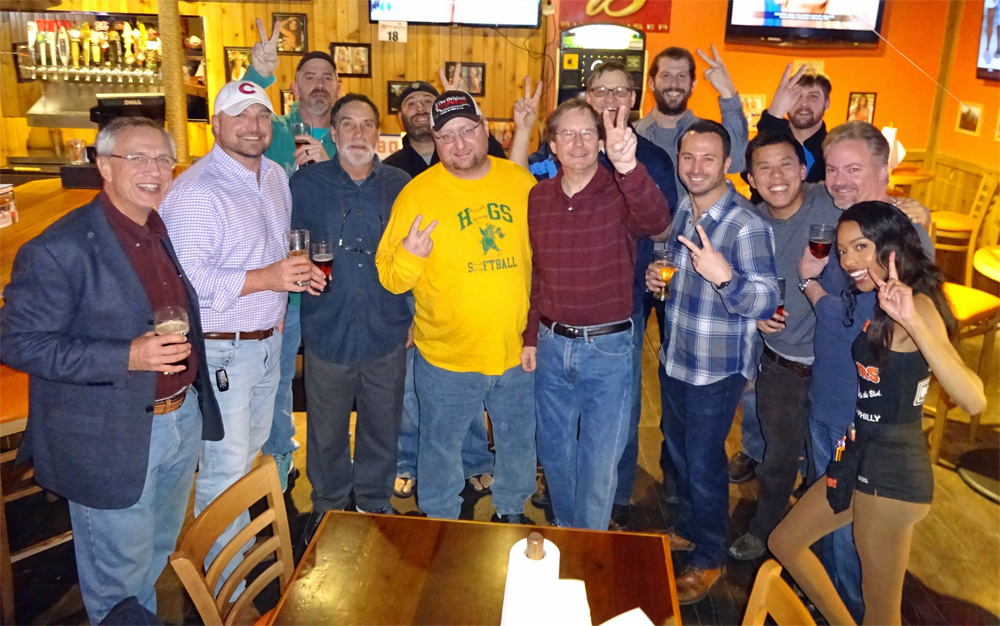 Hogs Softball Group Sans Nixon - 2016 Hooters
But expect significant support from retired Hogs who can't help but admire his asshole points. Plus his campaign "Nixon's The One" could be successful since no one is better at buying votes than Nixon.
Booze - Election Odds: 35%. His campaign "Make the Hogs Great Again" is off to a good start with retired players, but he needs some support from current Hogs. Hurt by marginal stats but helped by his lengthy 19-year softball career and legendary Hog career. They don't call him "Booze" for nothing. He's got a chance.
Doogie- Election Odds: 30%. Helped by solid stats and a legendary career as Hog Rock correspondent, but must overcome his outrageous PED allegations against several Hogs. Plus none of the current Hogs have ever even seen him and most think he's a myth. A bit of a long-shot.
Spuds - Election Odds: 25%. Getting surprising support based on his lengthy, if sporadic, career. As Bolts put it, "he has to show something for 24 wasted years". Although his stats are mediocre at best, he is well known by original and current Hogs alike. A long-shot but he's got a chance.
Tom Gottshall, Jack Sturgeon, Gary Brignola, Rick Rock - Election Odds: under 5%. All solid Hogs in their day including two MVH winners, but just too much competition to make it this time.
So don't become a disenfranchised Hog. Get your vote in now. Vote for up to five Hogs.
E-Mail to tomsommers@aol.com.
Updated voting results will be reported after the holidays.