WE WANT JERSEYS
by Tom Sommers
STABLES HOGS


14 Years of Softball Excellence
Bill Dungee Feb. 23, 1993
Owner-Stables Hogs Softball Team
Dear Owner,
It has come to my attention that the Hogs have not received jerseys in three out of the last four years, with the last time being in 1990. Normally I would let the Team Jersey Chairman, Rich Rock handle this matter, but unfortunately, he has been ineffective in this role. I decided to become personally involved because of the potential negative effects on team morale, and the negative effects on my ability to recruit the new young talent that is needed to keep the Hogs a dominant force for the remainder of the millennium. How am I going to recruit new talent such as a Doug Warner when they have to pay $55 and don't even get a jersey?
My other concern relates directly to the mystique of the Stables Hogs. One of our major claims to fame is that all players wear the same number, a precedent you set in 1981 with our first jerseys. More and more players don't have a #14 to wear during games. Some of our veteran players have had problems with their jerseys shrinking, and none of our new rookies from the last two years even own a #14. How can we expect talent like Craig Bender and Bruce Dayton to continue playing without ever receiving a jersey?
No new jerseys for the last two years has resulted in considerable talk among the players of previously unthinkable options such as:
Haven Hogs Walters Hogs Meadowbrook Hogs Just Hogs Hogs R Us
Now I don't want to fan the flames with this letter, but I don't think I can control the revolt if we go three consecutive years without jerseys. The situation is especially critical this year, our 14th Anniversary Campaign. And let's not forget about our bar performance. As the graph below indicates, the Hogs really deliver the bar appearances when we get jerseys. I can only imagine what the combined effect of new jerseys and the new ambiance of the Stables will have, but there is little doubt that we would break the bar appearance records set in 1990.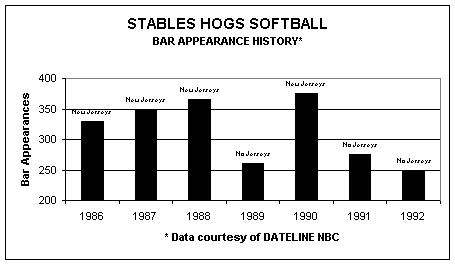 Sincerely,
Tom Sommers
Coach and General Manager
cc: Rich Rock - Ex-Jersey Committee Chairman