---
2002 Hogs Open
June 21, 2002 - by Macos
---
New Pictures
---
The Chairman's


Hogs Open Luncheon

Friday, June 21, 2002 11:00 AM -1:00 PM
LaTaverna, Rt. 23, Phoenixville

Tom Anzio, better known as The Chairman, will be hosting the 23rd annual Hogs Open Luncheon. This Boy Scout from Beaver will be providing interesting anecdotes and give his always helpful "Advice To Assholes" as he takes on the questions that are plaguing those assholes in attendance. Special Guest Speakers this year will include noted Siamese twins Jammer and his famous attorney F. Lee Saltzman.
---
Areno Presents The 23rd Annual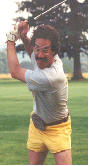 Hogs Open
Friday, June 21, 2002
1:00 PM—2:00 PM Tee Off Times
Pickering Valley GC
White Horse Rd, Phoenixville

Attention all golfers and anyone looking for some humorous entertainment. You won't want to miss the 23rd Annual Hogs Open at "The Breathtaking Monster" know as Pickering Valley GC. The Man-The Legend Steve "Areno" Centrella will be hosting this year's classic event. No experience is needed to enter. Sign up and qualify for many great prizes. Not a golfer? You may want to consider supporting these great athletes by driving one of the many concession carts and serving beverages to the competitors.
---