<![if !vml]>

<![endif]><![if !vml]>

<![endif]>
---
Faster than a fraternity brother at a chugging contest.
<![if !vml]>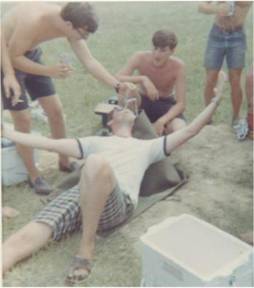 <![endif]>
Chugger
More powerful than flaming shots of Metaxa.
<![if !vml]>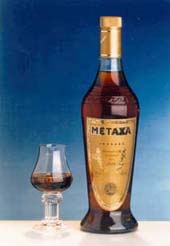 <![endif]>
Flaming Shots
Able to leap over tall champagne glasses with a single bound.
<![if !vml]>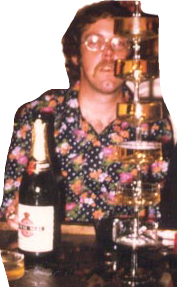 <![endif]>
Leaper
Look! Down on the ground! It's a wino!
<![if !vml]>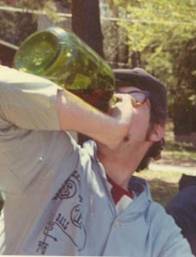 <![endif]>
Wino
It's a passed out drunk!
<![if !vml]>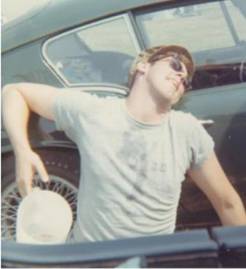 <![endif]>
Passed Out Drunk
It's Boozus!
<![if !vml]>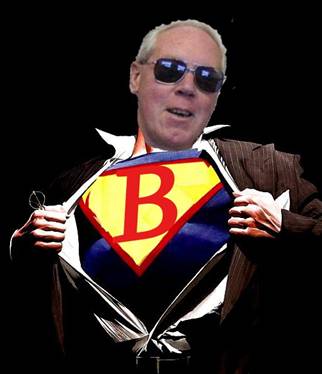 <![endif]>
It's Boozus!
Yes, it's Boozus. Strange drunken preacher from another planet who stumbled to Earth with a drinking stamina and liver capacity far beyond those of mortal assholes.
Yes, it's Boozus who can change the course of a Boeing 737!
<![if !vml]>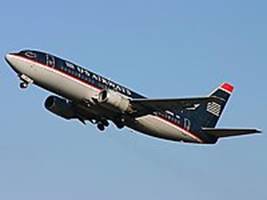 <![endif]>
Turn that 737 Around!
Yes, it's Boozus who can down a fifth of Wild Turkey with his bare hands!
<![if !vml]>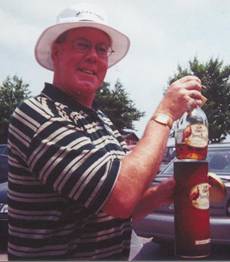 <![endif]>
Downing Wild Turkey
Boozus, disguised as Bruce Crowly, mild-mannered editorial writer for a famous internet website, fights a never ending battle for Inebriation, Assholism, and the American Buzz!

We now join the Latest Amazing Adventure of Boozus!
A strange man wearing a white robe found his way into the golfer's camp at Myrtle Beach. This self-proclaimed "Man of the Bottle" called himself Boozus.
<![if !vml]>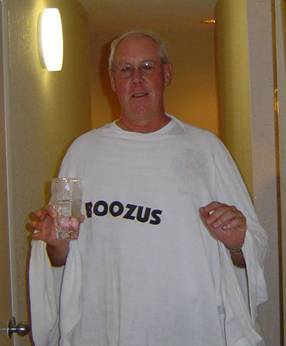 <![endif]>
Self Proclaimed "Man of the Bottle"
As he approached the crowd of drunken assholes, he spoke with a slurred accent. He claimed to have come from a far-away green planet known as Tanqueray.
<![if !vml]>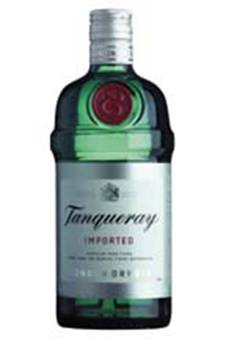 <![endif]>
Far Away Green Planet
As he wandered among the group, he declared himself to be on an evangelical crusade to convert others to "The Ways of the Bottle".
<![if !vml]>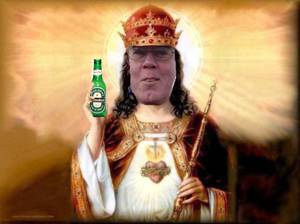 <![endif]>
Converting Others to "The Ways of the Bottle
The many drunks in the crowd started to gather to listen to him preach. Holding up his drink in one had, his voice boomed down like a roar from a mountain top.
<![if !vml]>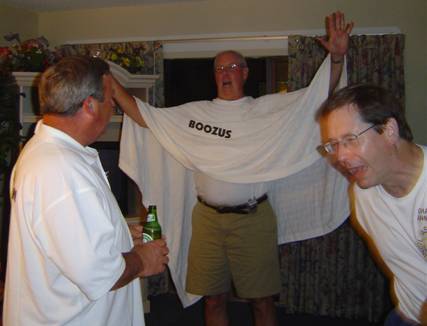 <![endif]>
A Roar from a Mountain Top
"I have come tonight to recruit you into the Church of Alcohology. There are many evils in this world, and I have enjoyed them all. Even worse, there are less and less sinners to enjoy these evils.
<![if !vml]>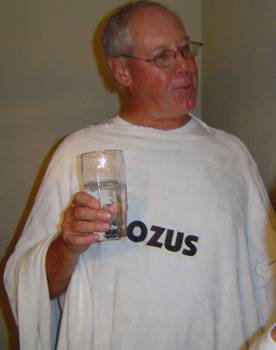 <![endif]>
Enjoys All the Evils of Life
Pussies like Larkins, Degnan and George have sworn off drinking. Rehab is for quitters!
<![if !vml]>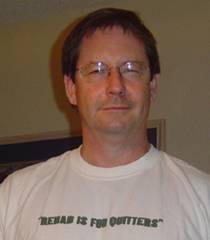 <![endif]>
Rehab is for Quitters
Fat pigs like Jammer and Harry Pizza Pie look like they have spent the last two years in Biafra. Diets are for cunts!
<![if !vml]>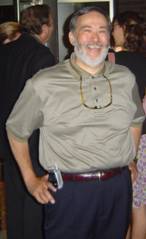 <![endif]> <![if !vml]>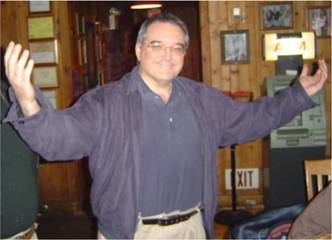 <![endif]>
Cunt Dieters
Before you know it Gotch, Zip and Vince will be declaring their bodies as drug-free zones.
<![if !vml]>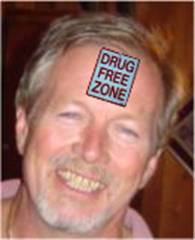 <![endif]> <![if !vml]>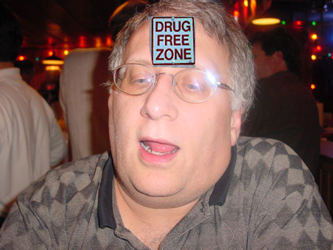 <![endif]>
Drug Free Zones?
"Sobriety is the devil reincarnated. You all need to commit yourself to the Holy Trinity – Beer, Wine & Liquor." As Boozus walked among the crowd, he began to gain converts. Z-man was the first to step forward and ask to be saved. "I had been on such a binge and I was thinking about cutting back. When Boozus put his sweaty palm on my face, I felt the need to have the spirits move me. I headed right back to the bar for another Captain & Coke."
<![if !vml]>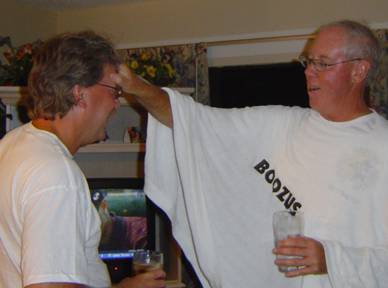 <![endif]>
Felt Need for More Spirits
Maco was the next to step up to touch the preacher. "This Boozus may be the greatest man to walk the earth. When he told me that he could piss fifteen different brands of beer, I told him I would help him whip it out. When he started pissing Heineken, it was better than the Immaculate Conception!"
<![if !vml]>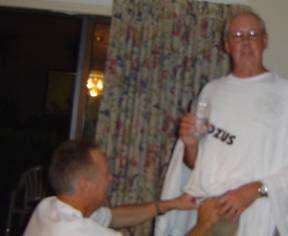 <![endif]>
Better Than the Immaculate Conception
Even the Chairman was wooed by the power of this evangelist. "He told me he could channel with me to talk to Denny. When he started to speak like a drunken sailor, I knew he had made the connection. He then baptized me in beer."
<![if !vml]>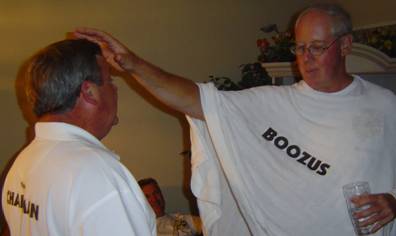 <![endif]>
Channeling with Denny
As Boozus gained more and more disciples, the crowd started to get out of control. Boozus gazed into the crowd and ordered them to show their commitment to debauchery and assholism by getting so drunk they would start to sodomize each other.
<![if !vml]>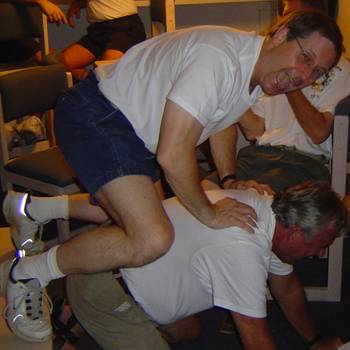 <![endif]>
Hogs Sodomizing Each Other
Before leaving Boozus turned one last time to tell his followers, "You will all be going to hell, so you might as well enjoy the ride."
<![if !vml]>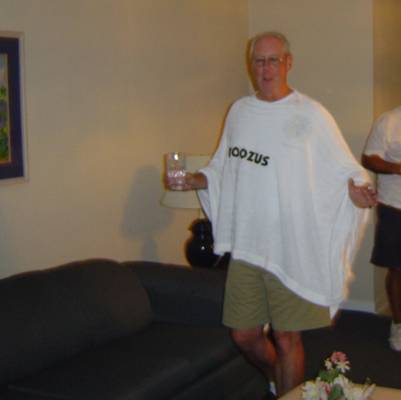 <![endif]>
Enjoying the Ride to Hell
---