Hog Rock Productions Inc.
2001 Annual Report
by Zip

Executive Biographies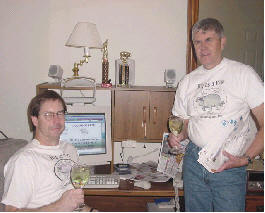 Co-CEO's at World Headquarters

Mr. Zip brings to Hog Rock an unmatched resume of Hog experience. Beginning as a Sigma Pi, he later graduated to the 49th Street Oilers and then to the Super Hogs. In 1973 he was the first Hog of the Year and became the only Hog to repeat in 1974.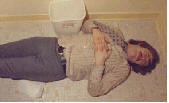 Unmatched Hog Resume
In 1980 Mr. Zip created the legendary Stables Hogs softball team. Softball-related publications led to the creation of Sta-Hog Productions where he began his long-term partnership with Mr. Macos. During the 1990's they cranked out hit after hit including Super Hog Jeopardy, The Mother Teresa Chronicles and Best of the Millennium. Mr. Zip, well known for his hands-on approach to business, is now webmaster for the hottest website around, Hogrockcafe.com.



Known for Hands-On Approach
Mr. Macos ascended to Hog Rock CEO following an astonishing career which began on the taxi squad at 49th Street. Along the way he accumulated every Hog honor he could invent including Original Super Hog, 1980 Hog of the Year, 20-year Hogs Open Belt Holder, 1980's Hog of the Decade and Hog of the Century.



Belt Holder For 20 Years Hog of the Century
His creative genius was recognized early with the legendary 1973 Brainfry and 1976 Sherwood Halloween invitations. He later masterminded several Hog fracases including the 1988 Super Hog Debates and the Hog of the Decade Controversy. Mr. Macos now publishes six Hog Rock newsletters a year, and has realized a 20-year dream with the creation of the Hog Rock Café. Despite reaching his career pinnacle, Mr. Macos is always willing to make an ass of himself.



Known to be an Asshole

Board of Directors

Macos—Chairman, CEO and Editor of Hog Rock News. Mr. Macos brings over two years of publishing experience to his position. He's best known in the industry for his scatological humor and willingness to hit below the belt.

Zip—Chairman, CEO and Webmaster for Hogrockcafe.com. Mr. Zip brings nearly two years of website design experience to his position. His reputation as the biggest hack in the industry is well deserved. When asked what html meant, he replied "have two more lines".

Areno—GM & Manager of Hogs Softball Team. Mr. Areno brings over 20 years of softball experience and is entering his seventh year as the Hogs leader. Areno's lack of a life is the driving force behind his refusal to let anyone put a fork in the softball Hogs despite decades of mediocrity.
Fat & Sassy—Website Sponsor and Host. Mr. Sassy, owner of Fat & Sassy Internet Services, began his Hog career as a Sigma Pi and Sandwichman. He later ran branch offices in both Chicago and Dallas. Mr. Sassy's creation of the Hogrockcafe.com website is the pinnacle of his illustrious career.

2001 Lack of Income Statement
Hog Rock Productions reduced its loss 71% in 2001 by maintaining stable income, keeping website costs at a minimum and reducing overall expenses. The major expense avoidance of no Hog Rock Café reunion more than offset small increases in publishing and depreciation expenses. See Income Statement below.
HOG ROCK PRODUCTIONS INC.
INCOME STATEMENT - YEAR 2001


Year Ending December 31


2001


2000

Change from 2000

Revenue by Segment
Publishing

0

0

Website Advertising

0

0

Other

0

0

Total Revenue

$0

$0

0%

Expenses by Segment
Publishing Supplies, Postage

1,122

968

16%

Website Host, URL Registration

0

0

0%

Hog Rock Café Functions, Maint.

225

5,200

-96%

Depreciation

425

385

10%

Other

125

75

67%

Total Expenses

$1,897

$6,628

-71%

Net Income of Loss

(1,897)

(6,628)

-71%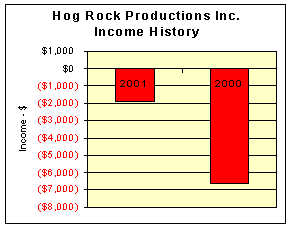 Auditor's Report

The financial statements above are certified by the accounting firm Nicholas T. Pimp & Associates, the same firm that certified Waste Management, Sunbeam and Enron.
Financial Benchmarking
Hog Rock Production's stunning 71% improvement and near-break-even performance in 2001 is in sharp contrast to other high tech internet companies such as Amazon and Yahoo. Hog Rock Productions also saw no loss in market capitalization in 2001, unlike high tech bellwether titans Cisco, Microsoft and Dell.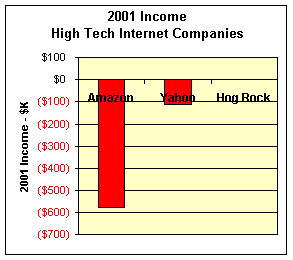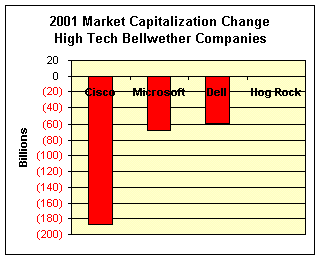 2002 Outlook—More of the Same
Although Hog Rock Productions anticipates an increased loss in 2002, our long-term strategy is to increase market share by maintaining zero income, and make up the difference with volume.

Investors should be aware that unbudgeted legal expenses from various threatened law suits are possible. These law suits will be handled by noted attorney F. Lee Saltzman.

Hog Rock News Highlights
Hog Rock News kept the presses rolling in 2001 by issuing 10 publications including five newsletters, two event invitations, the Hoggie Awards ballot, Web Wars of the New Millennium, and the Hoglidays Christmas card. Several controversies were generated including the tainted Hoggie Awards, the bogus Macos hole-in-one, and the Myrtle Beach asshole debate. Here are the 2001 publications and the best 2001 pictures.






Hoggie Awards HR News Vol. 4 Web Wars of the Hogs Open HR News Vol. 5
Ballot Hoggie Award Winners New Millennium Invitation HR Academy Investigation
Jan. 2001 March 2001 April 2001 May 2001 June 2001







HR News Vol. 6 HR News Vol. 7 Hooters Christmas Happy Hoglidays HR News Vol. 8
Hogs Open Myrtle Beach Party Invitation Christmas Card Hooters Hoglidays
July 2001 Oct. 2001 Nov. 2001 Dec. 2001 Dec. 2001
Best Hog Rock News Pictures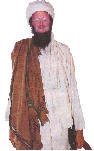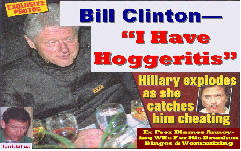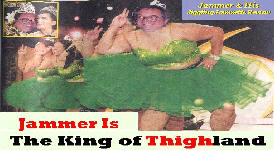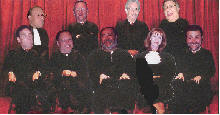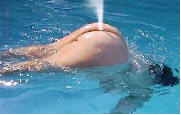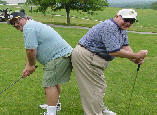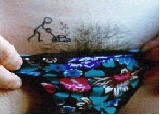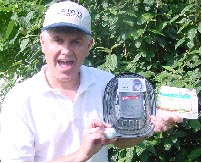 Hogrockcafe.com Website Highlights

Website Traffic Hits All-Time Record!

We began to monitor the hit count on

Hogrockcafe.com in March 2001. Traffic has increased dramatically, reaching an all-time record of 403 in November. Industry gurus are predicting traffic will triple in 2002.
Website Traffic - Year 2001

Month

March

April

May

June

July

Aug.

Sept.

Oct.

Nov.

Dec.

Total

No. Hits

136

119

135

158

162

192

179

281

403

310

2075

Hits/Day

4.4

4.0

4.4

5.3

5.2

6.2

6.0

9.1

13.4

10.0

6.8
2001 Hogrockcafe.com Letters

Yes, we've got letters

. In fact we got posted a record 35 letters in 2001. The Hoggie Award Nominees are listed below in chronological order broken into four divisions: General, Hoggeritis, Web Wars and Myrtle Beach Assholes. And here's a few good pictures we generated along the way.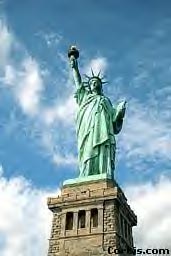 Hogs Action Figures Booze's Rainbow Collection Crack Whore Let Them Eat Dust Sculptured Bodies








Masshole Rest Stop Romper Well Known Conservatives Well Known Liberal Butchers

Best 2001 Letters—General Division


Unspoken Hog Sayings—Booze, Jammer & Areno
Hog Action Figures—Phil Seufert
Osama Bin Buffy—Doodle, Buffy, Macos & Zip
Skywalker Buffy—Franco
Booze's Rainbow Collection—Booze

Best 2001 Letters—Hoggeritis Division
ASHOL Foundation—Binky
Hoggeritis is Poppycock—Doogie
Inexpert Experts—Doogie
Hoggeritis Scheme to Milk Govern.—Dick DeCoux
Hoggeritis-A Subliminal Response—Booze

Best 2001 Letters—Web Wars Division
Pasta Peckered Plutocrat—Doogie
Low Net Worth Moron—Sly
Doogie's Back—Doogie
More Dick—Dick DeCoux
Mean Mr. Macos—Doogie
Wise Mr. Macos—Macos

Best 2001 Letters—Myrtle Beach Assholes Division
Biggest Asshole Title—Fat & Sassy, Pink, Macos
The Real Deal Asshole—Denny Anzio
Jackass Glammer—Steve Glammer
You're All Assholes—Larry Bittner
Asshollicly Challenged—Dick DeCoux

2001 Hog Rock Event Highlights
Dirt's Opening Day, 27th annual event held in April 2001. Produced by Dirt, entertainment was the same as last year.
Nick The Pimp Invitational Mixed Scotch Doubles Tournament, 1st annual event rumored to be held in Sept. 2001.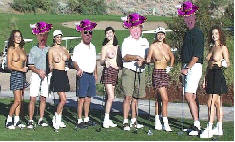 Blanchard Labor Day Picnic, 26th annual event held in Sept. 2001. Produced by Pink and Arch, entertainment was the same as last year.

Hogs Open, 22nd Annual Full-Contact Golf Tournament held in June 2001. Produced by Hog Rock, turnout was the second highest on record.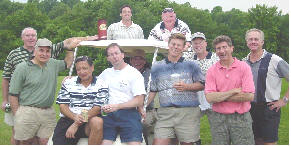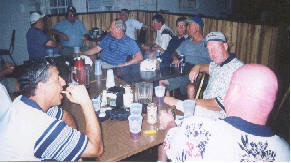 Myrtle Beach Fat & Sassy Golf Tournament, 20th annual event held in Sept. 2001. Produced by Pink and Dennis James, entertainment was at an all-time high.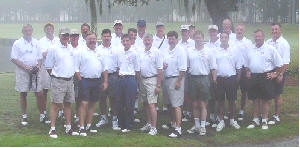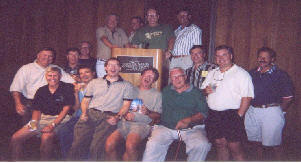 Hooters Christmas Party, 3rd annual event held in Dec. 2001. Produced by Hog Rock, turnout was a new record.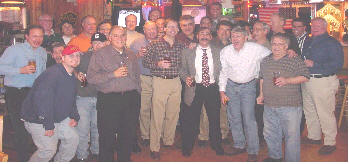 McDade's Stink Bar Extravaganza, 1st annual event held in Dec. 2001. Attendance was standing room only.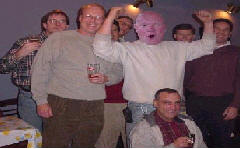 Human Capital Highlights

Hog Rock News Staff

Hog Rock News

began 2001 with a crackerjack staff which included editor Judy Sommers, and correspondents Ask Artie, Doc Quack and F. Lee Saltzman. We then added Help-A-Hog Foundation Chairman J.T., Entertainment Insiders Dick & Maco, Asshole Chairman Tom Anzio, E-Hog Rick Schirm and Booze on Booze.








Editor Artie Doc Quack F. Lee J.T. Entertain. Insiders Chairman E-Hog Booze
Hogrockcafe.com Staff
Our Hogrockcafe.com website began the year with Staff Writer and Chief Medical Correspondent Doogie. We then added Staff Writer Dick DeCoux and Spirits Correspondent Booze.


Staff Writer & Chief Medical Staff Writer Spirits Correspondent
Correspondent Doogie Dick Booze
Thanks To Our Supporters
Thanks also to all Hog Rock Café supporters who have contributed letters, classic pictures and other materials. Included are Jammer, Areno, Flea, Charles Bolton, Eggs, Swan, Bethanne, June Hilbert, Almeda Ruger, Jane Gerber, Bonnie Stair, Phil Seufert, Bill Schleyer, Franco, Buffy, Butch Hoover, Doodle, Binky, Ted Fitzer, Denny Anzio, Larry Bittner, Steve Glammer, Frank Weeks and Sam Levin.
























Special thanks go out to Rick Schirm for his ongoing technical support of our website, and to Dennis James for hosting our website. Without these two, we would all be without our favorite website, Hogrockcafe.com. Clearly, they have made our world a better place.


We're On A Mission



CEO Macos CEO Zip

Established on Jan. 1, 2000, Hog Rock Productions Inc. is a non-profit enterprise run by two Hogs with way too much time on their hands. Our mission is to enrich the Hog Community by promoting various social events and general bullshit through our newsletters and website. Our number one mission in 2002 is:

Grand Reopening of the Hog Rock Café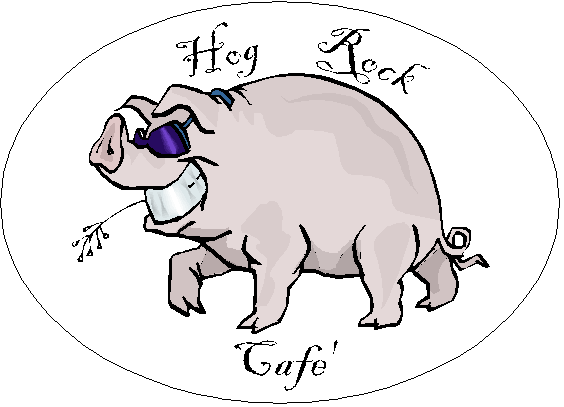 June 22, 2002
121 Cardinal Drive Conshohocken, PA