Just Another Sweep for the Hogs
Ho Hum - Just Another Sweep for the Hogs

The Hogs cruised with two more mercy rule victories, this time over longtime rival The Fightins.

Joe "The Liability" Bucci led the way for the Hogs in Game 2. In a true full Hogs experience, Joe showed up to the game looking a little spaced out with red eyes - "must be allergies... or the joint I just smoked".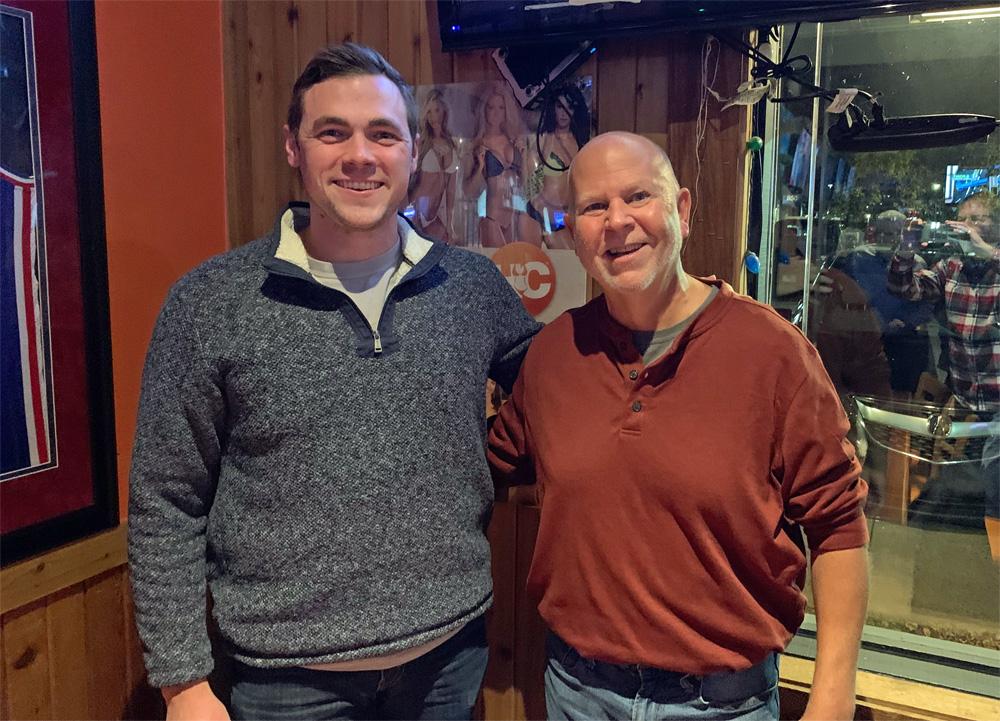 The Liability with Spuds

Playing the deepest right field any Hog has ever played, "The Liability" misplayed several fly balls including a can of corn that bounced squarely out of his glove.

HOWEVER, at the plate in Game 2 Joe lived up to the famous Bucci Last Name and came through with a bases clearing 3 run double to jump start the Hogs to victory. He had a career night finishing the game 3-3 with 3 doubles and 5 RBIs.

The Hogs sit at 8-2 with 6 games left in the regular season, needing only 1 more win to solidify an over .500 season.
---
Hogs Jump Into First Place
In a match-up of top teams, the Hogs swept their way into first place with two mercy rule 10-run wins over Team Stripe.

The Hogs bats were so hot, Team Stripe complained to the umpire to "check that bat!" Thinking that since the Hogs suck, those bats must be illegal.
The play of the day came in game two with the Hogs down by four - Rookie Erik 'Ponch' Estrada smacked a grand slam home run to tie the game. He rounded the bases faster than the California Highway Patrol. The Hogs rode the wave of momentum and piled on from there.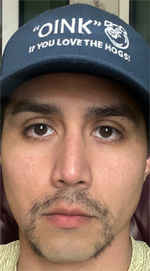 Ponch

The rookie from Texas is off to a hot Hogs start - one of the few still in the running for the new, illustrious, Super Hog Award.

The Hogs will look to ride the hot bats and cold beers into next week with big games and the Hogs Open upcoming.
---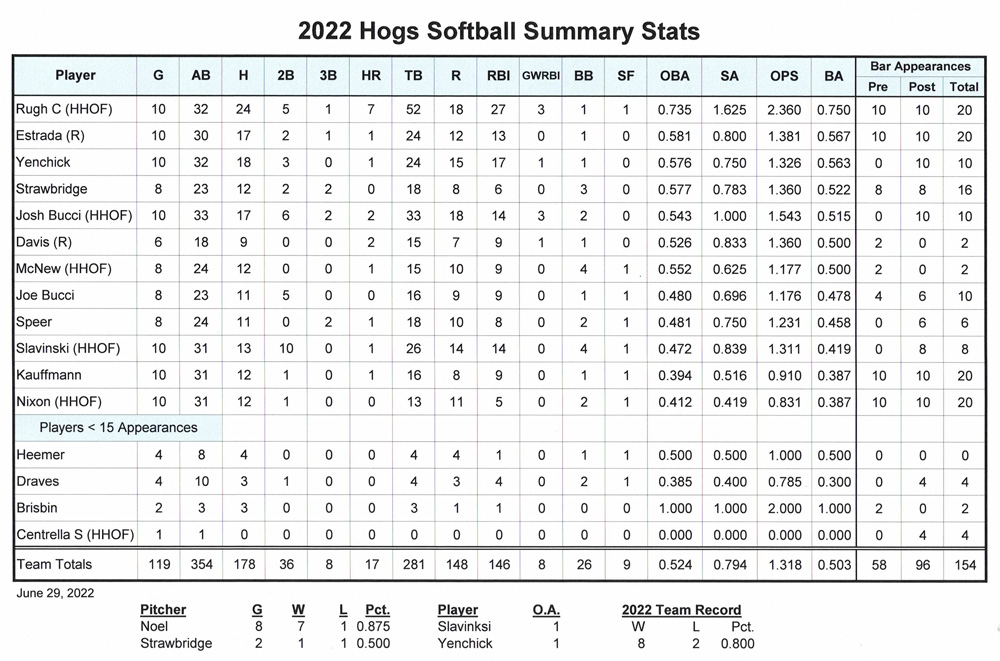 ---
2022 Hogs Softball Schedule/Results
Day
Date
Time
Opponent
Location
Game Result
Hogs
Record
Hogs
Opp.
Tue
5/3/2022
6:00 PM
Gallaghers
FF
13
12
1-0
7:00 PM
Gallaghers
FF
15
25
1-1
Tue
5/10/2022
6:00 PM
Hackers
FF
10
5
2-1
7:00 PM
Hackers
FF
4
13
2-2
Tue
5/24/2022
6:00 PM
Breaking Bats
FF
18
9
3-2
7:00 PM
Breaking Bats
FF
14
8
4-2
Thu
6/7/2022
6:15 PM
Stride
VP
19
6
5-2
7:15 PM
Stride
VP
17
7
6-2
Tue
6/28/2022
6:15 PM
Fightins
FF
23
11
7-2
7:15 PM
Fightins
FF
15
5
8-2
Tue
7/5/2022
6:15 PM
Collins Paint
VP
7:15 PM
Collins Paint
VP
Thu
7/14/2022
6:15 PM
Go Green
VP
7:15 PM
Go Green
VP
Tue
7/19/2022
6:15 PM
Routine Hops
VP
7:15 PM
Routine Hops
VP
Playoffs
Total
148
101
47
Location - Phoenixville
FF = Friendship Field - 501 Franklin Ave
VP = Veterans Park - 194 Mowere Rd
---
New Hogs Softball Encyclopedia
2022 29th Edition Now On-Line



View On-Line
Softball Encyclopedia
View, Print or Download PDF