---
Hogs Win B-League Championship
Shots, beers, wings, pizzas...and oh yeah ...the Championship trophy!

All were part of the celebration at the GridIron (Home of the Hogs) after beating Collins Painting (our decades-old rival) at Veterans Field 20-5 in the much-anticipated B-league championship game. The Hogs Softball team won it's first division title and are now crowned the 2023 Champs!

The play-offs had been marred by inclement weather the previous week and was re-scheduled for Tuesday evening. Wreaking havoc with various vacation schedules. Friendly skies greeted the Hogs tonight even though it was a little muggy.

Initially the Hogs seemed lethargic. We were missing some key players from the line-up. This did not bode well. Our defensive cornerstone, if you will, of Brandon, Rhino, and Willy were all out. Joe was on the IR and Kauff missed the national anthem. But not to worry, with the players picking their own defensive positions, Booch moved to the outfield, joined by Billy, Cricket and Ed. They played flawless 'D'. Ironically, defense was costly to the Painters not the Hogs. They dropped, muffed and misplayed numerous attempts to field balls only to allow extra outs, extra bases and more runs for us. Our infield play shined also, manned by Bear, Crew, Nix and Straw. Noel and '3hit' Erik made up the battery.

The first inning was worrisome. The Painters scored three runs. The Hogs were unable to answer in our half of the inning, with three fly outs and no runs. Our opponents then plated another run in the top of the second leading to a 4-0 deficit. The fans were raising their eye brows and looking at each other considering perhaps the possibility of sitting thru a doubleheader in this double elimination tournament. They included Andy, Pung, Spuds and Jules. Areno had our backs as usual. But the bottom of the second told a different story. Collins lead would not last a PVille minute! Five straight hits including a Booch double lead to a 6 run inning. Ed picking up the go ahead RBI that would eventually be the GWRBI ! The Painters scored another run in the top of the third inning giving them 5 runs and keeping within striking distance of the never-quit Hogs. We batted around in the third inning scoring seven more runs. Highlighting the hit brigade was Cricket with a 3 run HR blast. Straw also went yard for a solo shot. Crew and Booch racked up doubles in that frame. Score after three innings...13-5!

The fourth and final frame arrived and we held Collins Painters to no runs in their half of the inning. Then the Hogs batted around again in the fourth ! Seven hits, seven runs including doubles by Ed and Bear and an always exciting triple by Crew. Nixon, returning from his vacation, crossed the plate with our 20th and final run. Noel recording the walk-off single. Final score 20-5. An interesting bone-headed base running blunder by Billy threatened to cut short the Hogs rally. He was caught trying to steal third base when the ball was slowly returned to the pitcher. Fortunately, Radar the Ump claimed that he had called 'Time' much to the dismay of the Painters. Billy was allowed to return to second base and eventually scored and kept the inning alive for more runs. BTW the bottom of the line-up went 12 for 12! eliciting a 'Hogs like Bottoms' cheer. The margin of 15 runs concluded the game with the speed up rules taking effect. What followed can only be described as bedlam as the 1st place trophy was awarded to our team leaders. The ensuing celebration and picture taking overwhelmed the Hog players and onlookers as our first championship victory began to sink in. Rings are rumored to be issued at the start of the 2024 campaign. And a replica banner of the back of this years jerseys will be unveiled at the GridIron.

Individual shout-outs go to Crew for MVH honors and managerial excellence. The MVH bridesmaid list is extensive. Straw, Willy, Bear and Cricket all ending the season above .500. Cricket is now eligible for HHOF consideration. Rookie of the Year was bestowed upon Ed. Who can forget his first at bat for the Hogs? The deafening jeers, shouting and heckling with boos to the ump for calling balls as he extended the count to 3-2. Somehow he completed his AB. He would later create his own award ( who would do such a thing ?) as the season came to a close. He accepted on his own behalf the triple crown award honoring himself. He took home the prestigious Iron Hog title (games and bars) LVH and ROY. His base-running was a joy to watch. His fielding was always a constant adventure to say the least.

Congratulations to all the Hogs. Every #14 contributed to this memorable game and season.
Thanks to the GridIron for their sponsorship, refreshments and laughs.

Respectfully submitted,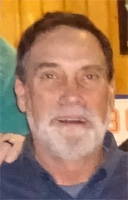 Areno#14
HHOF
MVH
HogWild Treasurer
Hog Correspondent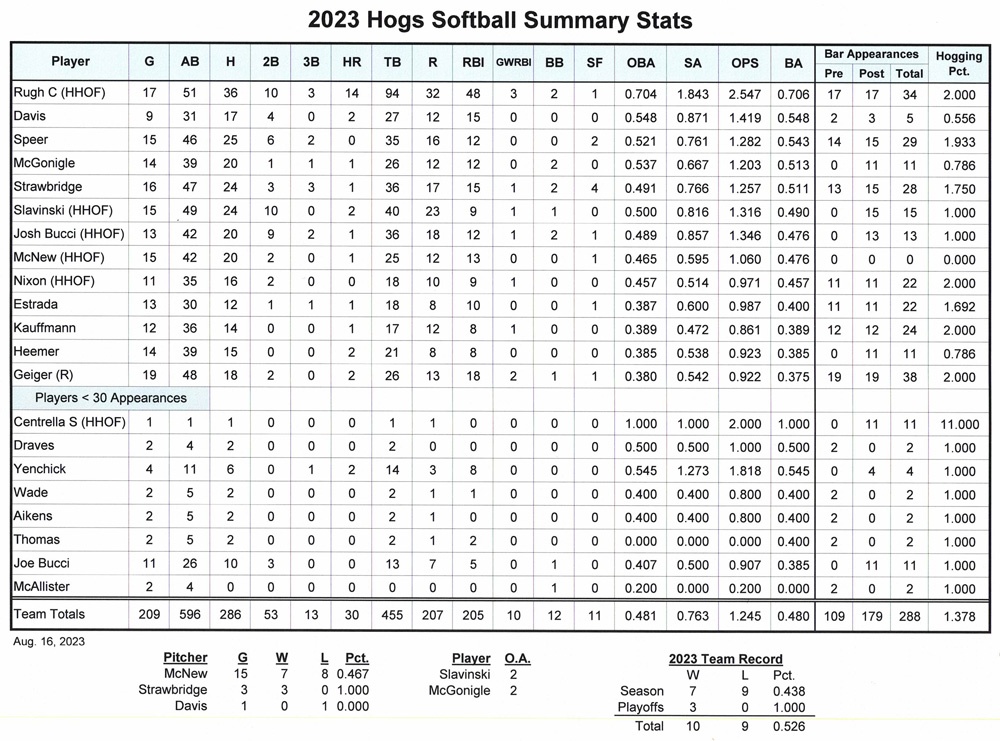 ---
2023 Hogs Softball Schedule/Results
Day
Date
Time
Opponent
Location
Game Result
Hogs
Record
Hogs
Opp.
Tue
4/18/2023
6:00 PM
Collins Paint
VP
18
8
1-0
Tue
4/25/2023
6:00 PM
Sack Flys
VP
18
8
2-0
Tue
5/9/2023
6:00 PM
Italian Club
FF
13
12
3-0
7:00 PM
Italian Club
FF
8
18
3-1
Thu
5/18/2023
6:00 PM
Gorillas
FF
9
19
3-2
7:00 PM
Gorillas
FF
0
23
3-3
Thu
5/25/2023
6:00 PM
Duck Inn
FF
2
12
3-4
7:00 PM
Duck Inn
FF
4
15
3-5
Tue
6/6/2023
6:00 PM
Markleys
FF
10
13
3-6
7:00 PM
Markleys
FF
5
13
3-7
Thu
6/13/2023
6:00 PM
Breaking Batz
VP
13
10
4-7
7:00 PM
Breaking Batz
VP
14
11
5-7
Tue
6/20/2023
6:00 PM
Fightins
VP
17
2
6-7
7:00 PM
Fightins
VP
12
6
7-7
Tue
7/19/2023
6:00 PM
Hackers
VP
6
21
7-8
7:00 PM
Hackers
VP
3
21
7-9
Playoffs

Tue

8/1/2023

6:00 PM

Breaking Batz

VP
15
12
8-9
Thu
8/3/23
6:00 PM

Fightins

VP
20
9
9-9
Thu
8/15/23

6:00 PM

Collins Paint VP
20
5
10-9
Total
207
238
-31
Location - Phoenixville
FF = Friendship Field - 501 Franklin Ave
VP = Veterans Park - 194 Mowere Rd
---
Hogs sweep first two playoff games!
Another great Hogs playoff win last night!

14 runs in the first inning! I wouldn't have believed it if I wasn't there.
Home runs by Geiger and Rugh. 2 Home Runs by Ryan Yenchick.

Hogs play in the B-league championship next Thursday!

The best of all - there is a 3-way tie for LVH right now.
Estrada, Geiger and Heemer all batting .333.
We're going to be betting on who will take home LVH.
B-League Championship Game - Thursday Aug. 10, 2023
---
Hogs Finish Regular Season 7-9
After a month lay off, the rusty Hogs were back in action on Tuesday vs the Hackers.

With a 6th place (out of 10) regular season finish locked into the place, the Hogs took a relaxed view on the regular season finale.

Each game lasting only 4 innings due to the Mercy Rule, the Hogs were quickly back at the bar after 21-6 and 21-3 losses.

Highlights include:
Potential ROY and only SuperHog Ed Geiger with his first career home run
Strawbridge 4-4 with 2 doubles and 2 triples
Rugh 4-5 with 2 homers and 1 double

The playoffs start next week and rumor is there will be "A" league and "B" league playoffs. By finishing 6th - the Hogs may have perfectly positioned themselves to be the #1 seed in the "B" playoffs.

The Hogs will head into the playoffs as heavy favorites to take the "B" championship.

How will the Hogs handle the pressure? Heavy is the head that wears the crown.
---
---
Hogs Sweep Breaking Batz & Fightins
Streaky 2023 Hogs Now Back to .500

---
Hogs in Freefall! Drop 7 Straight
---
Areno Jump Starts the Hogs
First Place Hogs 2-0


Hogs Legend Areno Singles
in His 43rd Season
Hermosa Dia !
It was a 'Beautiful Day in the Neighborhood' especially in PVille where the Hogs Softball Team was celebrating opening day at Veteran's Park Field. This is our 43rd season (2020 was cancelled because of Covid) but still the longest continuous-running softball team in the country.
Collins Paint was our adversary, a 'mal dia' for the Painters. Why?... because 'we own those guys!'.
Then it was time...'Jugar a la pelota !!' And it was Deja Vu all over again as Areno ceremoniously led off 2023 with his patented (some people have said) frozen rope up the middle. The Hogs were off and running. Pung opted out of going for his 500th career hit once again
avoiding a possible lowering of his lifetime BA.
Donning our new team jerseys, these warriors suddenly became bi-lingual...Spanish is now our preferred second language if only we could stop laughing...Jerseys are an instant classic.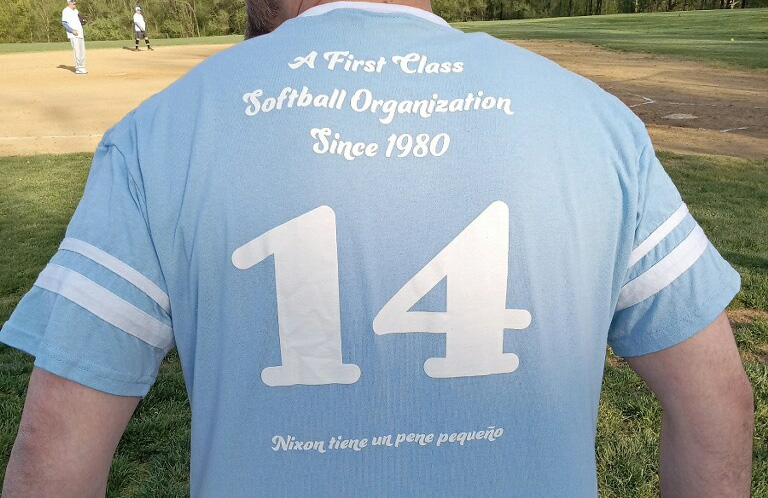 It was a stellar day for the Hogs Stat sheet too, culminating in a 18-8 victory.
Areno 1H, 1R
Brandon 3H,1HR,1Triple (no doubles)
Booch 2H,2R
Crew 2H, 2R, 3RBI
Bear 2H,1R 1 Triple, 3 RBI
Straw 2H,1R, ( No K's)
Rhino 1R, 1 Triple, 1 RBI
El Nixon 2H, 2R (beuno!)
Noel 2H,2R,
Will 2H, 1HR, 5 RBI
Erik 1H
Ed (ROY contender) 1H,1 RBI
Cricket 2H, 2R1 triple
Joe and Kauff 'many intangibles'
Unfortunately, this journalist was not present at the conclusion of the game. He was busy living up to his 'FIFO' reputation at the bar.
As usual, next year he promises to get a life. But the ending was described by no less than four players who were a part of this exciting ending. It was a 'Hog Like' performance of base running buffoonery by the Painters. With the bases loaded in the bottom of the 7th, they had come back on their minds. A routine F7 was rejected from Brandon's glove. His relay to Crew and then to home was met by a face-planted runner between 3rd base and home. An ensuing run-down turned into a bazaar double play to end the game and send the joyous team to the GridIron with a 1-0 record.
Areno
HHoF
MVH
HogWild Treasurer
Hog Correspondent
---
New Hogs Softball Encyclopedia
2023 30th Edition Now On-Line