43rd Season
2023 Hogs Softball


Hogs Lose Five Straight after 3-0 Start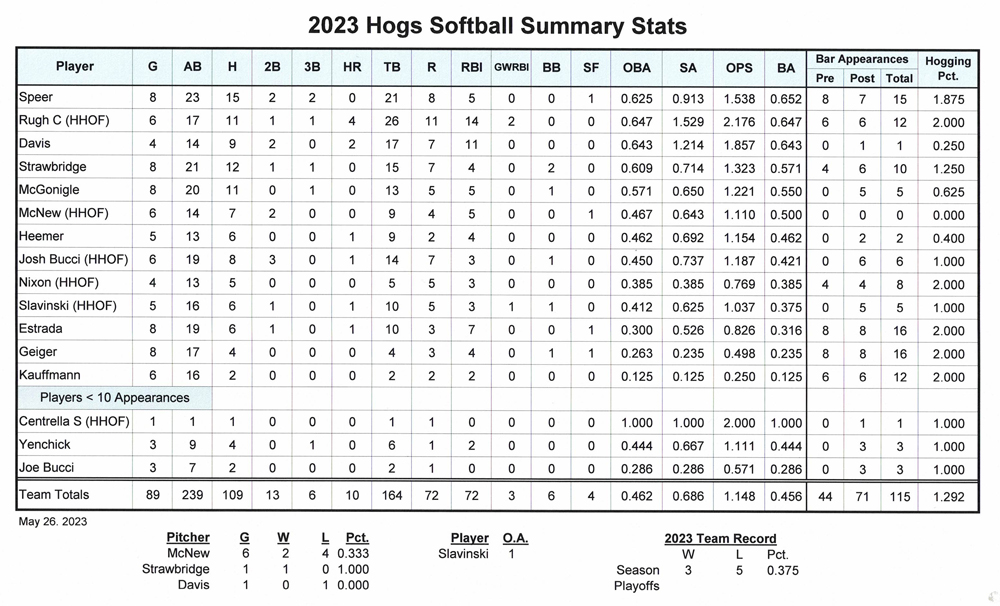 ---
Areno Jump Starts the Hogs
First Place Hogs 2-0


Hogs Legend Areno Singles
in His 43rd Season
Hermosa Dia !
It was a 'Beautiful Day in the Neighborhood' especially in PVille where the Hogs Softball Team was celebrating opening day at Veteran's Park Field. This is our 43rd season (2020 was cancelled because of Covid) but still the longest continuous-running softball team in the country.
Collins Paint was our adversary, a 'mal dia' for the Painters. Why?... because 'we own those guys!'.
Then it was time...'Jugar a la pelota !!' And it was Deja Vu all over again as Areno ceremoniously led off 2023 with his patented (some people have said) frozen rope up the middle. The Hogs were off and running. Pung opted out of going for his 500th career hit once again
avoiding a possible lowering of his lifetime BA.
Donning our new team jerseys, these warriors suddenly became bi-lingual...Spanish is now our preferred second language if only we could stop laughing...Jerseys are an instant classic.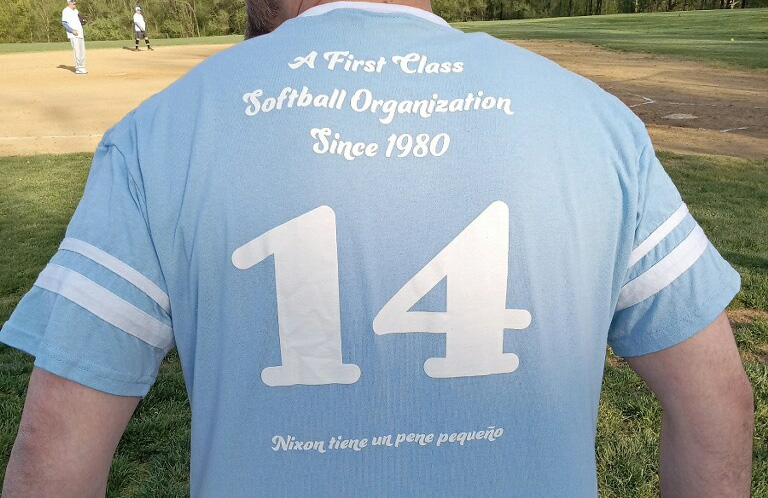 It was a stellar day for the Hogs Stat sheet too, culminating in a 18-8 victory.
Areno 1H, 1R
Brandon 3H,1HR,1Triple (no doubles)
Booch 2H,2R
Crew 2H, 2R, 3RBI
Bear 2H,1R 1 Triple, 3 RBI
Straw 2H,1R, ( No K's)
Rhino 1R, 1 Triple, 1 RBI
El Nixon 2H, 2R (beuno!)
Noel 2H,2R,
Will 2H, 1HR, 5 RBI
Erik 1H
Ed (ROY contender) 1H,1 RBI
Cricket 2H, 2R1 triple
Joe and Kauff 'many intangibles'
Unfortunately, this journalist was not present at the conclusion of the game. He was busy living up to his 'FIFO' reputation at the bar.
As usual, next year he promises to get a life. But the ending was described by no less than four players who were a part of this exciting ending. It was a 'Hog Like' performance of base running buffoonery by the Painters. With the bases loaded in the bottom of the 7th, they had come back on their minds. A routine F7 was rejected from Brandon's glove. His relay to Crew and then to home was met by a face-planted runner between 3rd base and home. An ensuing run-down turned into a bazaar double play to end the game and send the joyous team to the GridIron with a 1-0 record.
Areno
HHoF
MVH
HogWild Treasurer
Hog Correspondent
---
New Hogs Softball Encyclopedia
2023 30th Edition Now On-Line