HOG ROCK CAFE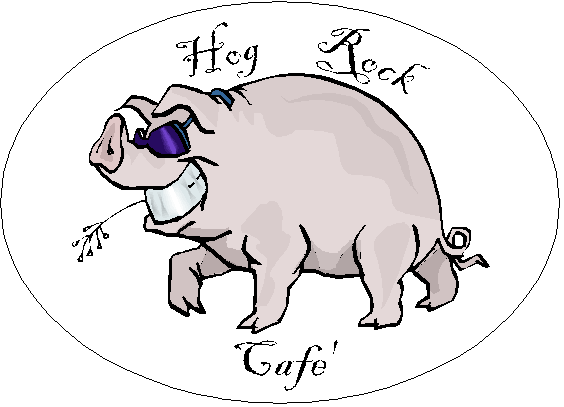 GRAND RESURRECTION JUNE 18, 2022

HOOTERS CHRISTMAS PARTY
FIRST FRIDAY IN DECEMBER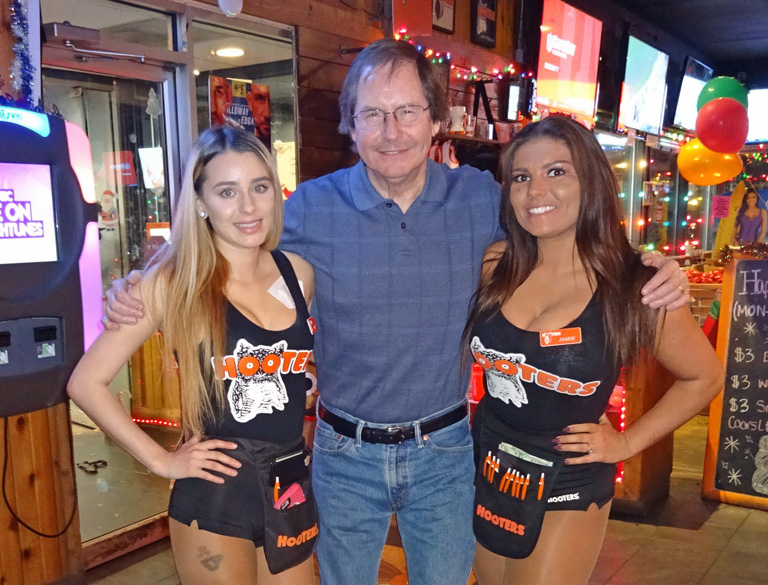 23rd Annual
2021 Hooters Christmas Party is On!
Friday, Dec. 3, 2021 6 PM
Hooters King of Prussia
---
21st Annual
2019 Hooters Christmas Party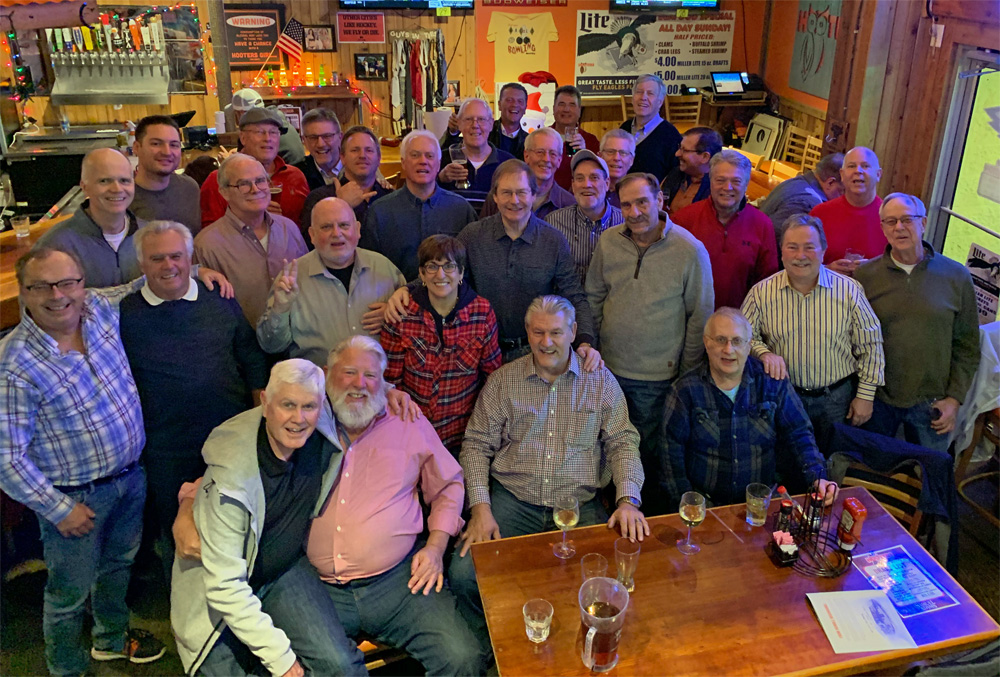 2019 Hooters Group
Brand New Pictures
MYRTLE BEACH GOLF CLASSIC
AMERICA'S PREMIERE GOLFING EXPERIENCE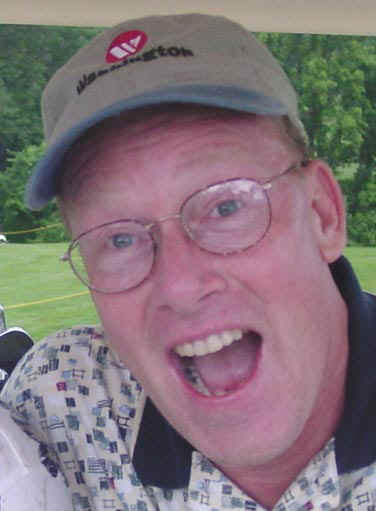 40th Annual
Myrtle Beach Golf Classic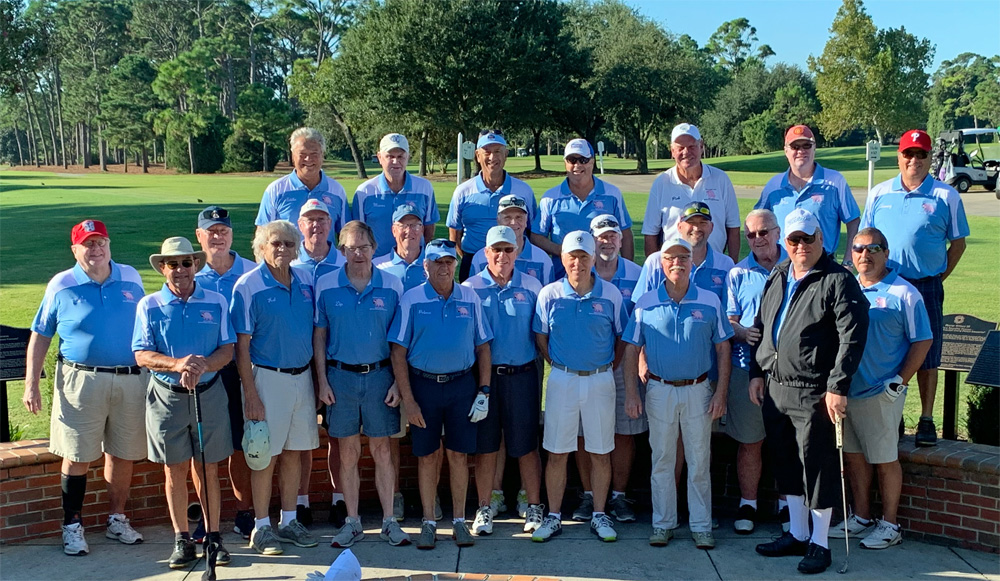 2021 Myrtle Beach Group
Brand New Pictures
HOG ROCK GRAND RESURRECTION
One Last Time Before We're Dead
JUNE 18, 2022

HOGS OPEN
THIRD FRIDAY IN JUNE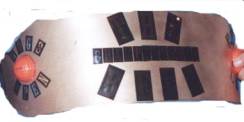 42nd Annual
Hogs Open
Areno Wins Back-to-Back Belts!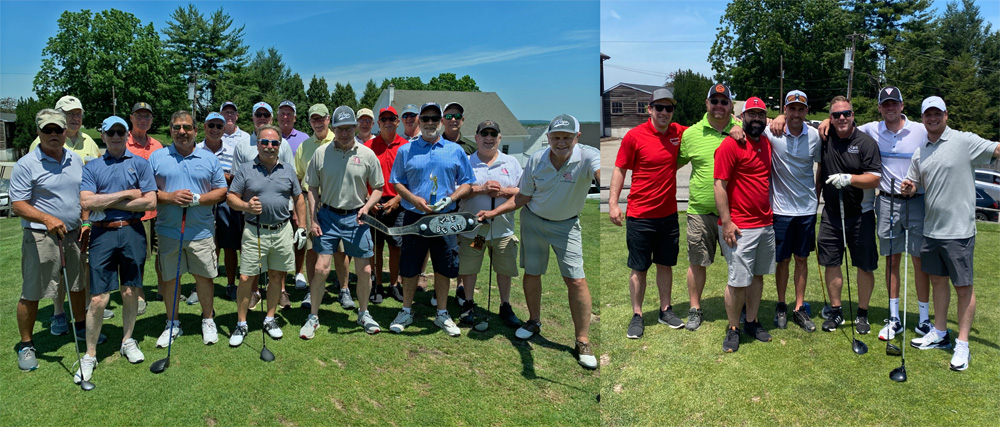 2021 Hogs Open Group
Brand New Pictures
HOGS SOFTBALL
AMERICA'S LONGEST RUNNING SOFTBALL TEAM
Since 1980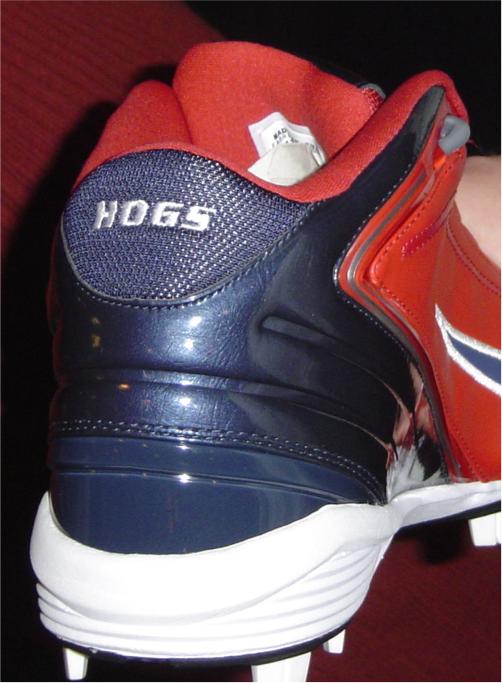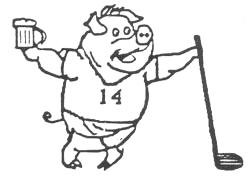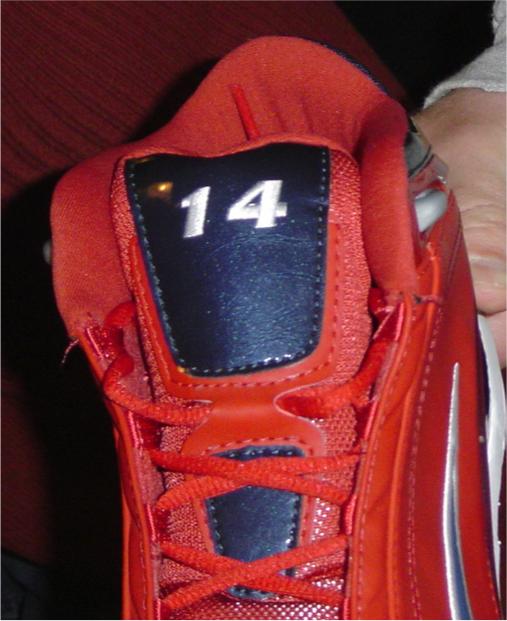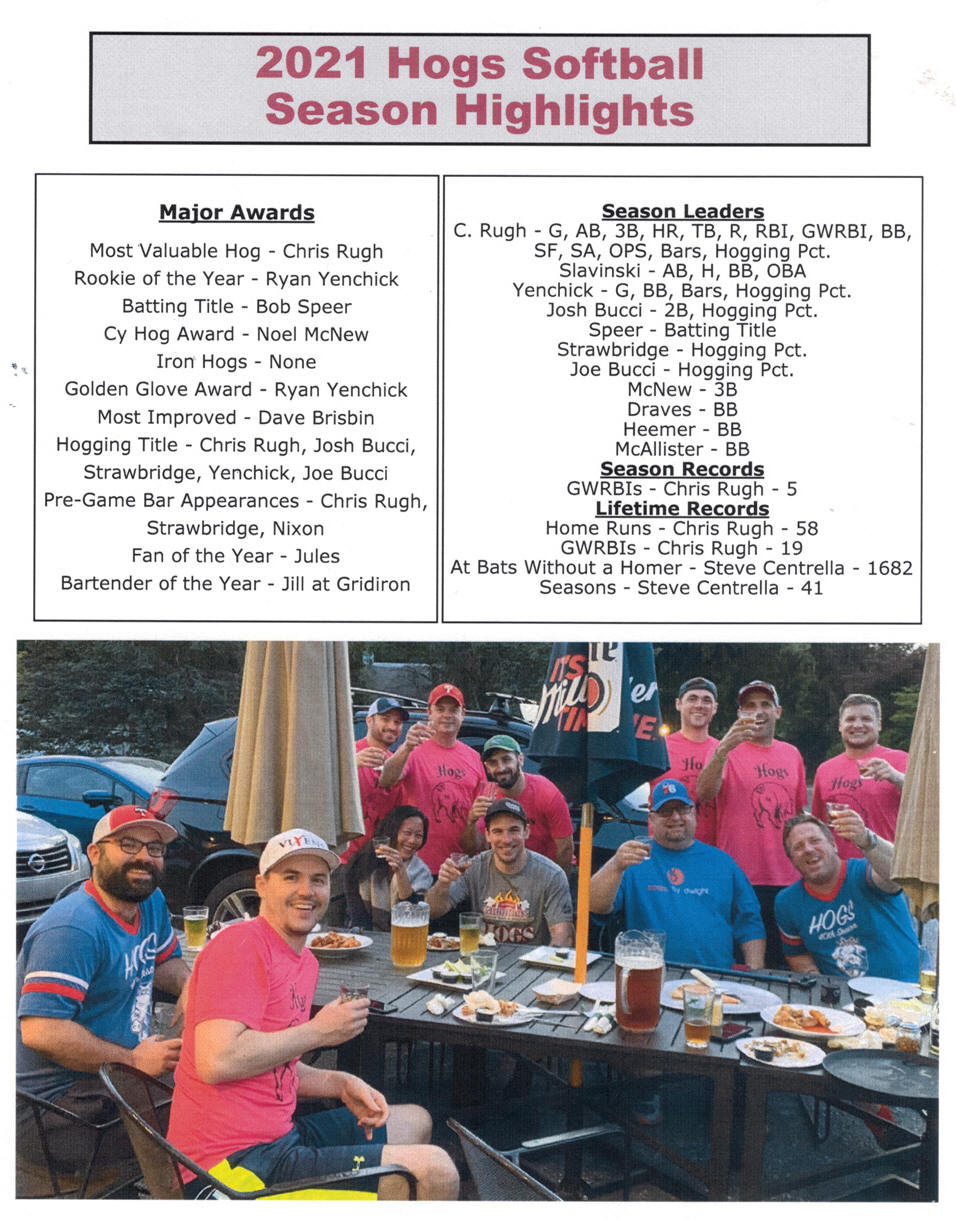 ---
Hogs Finish 2021 Season 9-11
The Hogs 2021 season ended with a 14-4 playoff loss to Routine Hops to finish with a 9-11 record. Manager Chris Rugh captured his sixth straight MVH, Ryan Yenchick was named Rookie of the Year in a close race with Jon Kauffmann, and Bob Speer captured his second batting title.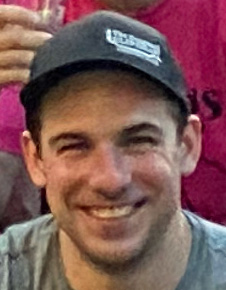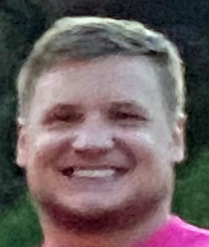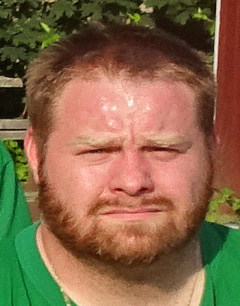 2021 Award Winners
---
41st Season
Hogs 2021 Results
Day
Date
Time
Visitors
Home
Location
Game Result
Hogs
Record
Hogs
Opp.
Tue
4/20/2021
6:15 PM
The Hogs
Gallaghers
FF
11
14
0-1
Tue
4/27/2021
6:15 PM
Hackers
The Hogs
FF
12
14
0-2
Tue
5/11/2021
6:15 PM
Collins Paint
The Hogs
FF
6
8
0-3
Thu
5/20/2021
6:15 PM
Routine Hops
The Hogs
VP
14
16
0-4
Tue
5/25/2021
6:15 PM
Brew Crew
The Hogs
VP
21
6
1-4
Tue
6/1/2021
6:15 PM
Go Green
The Hogs
VP
9
13
1-5
Thu
6/10/2021
6:15 PM
The Hogs
MKS
VP
9
8
2-5
Tue
6/15/2021
7:15 PM
The Hogs
Phightins
FF
21
5
3-5
Thu
6/17/2021
7:30 PM
Phightins
The Hogs
FF
21
17
4-5
Thu
6/24/2021
6:15 PM
Routine Hops
The Hogs
FF
5
9
4-6
Tue
6/29/2021
6:15 PM
The Hogs
Go Green
FF
11
1
5-6
Tue
6/29/2021
7:30 PM
The Hogs
Brew Crew
FF
16
3
6-6
Thu
7/8/2021
6:15 PM
The Hogs
MKS
VP
4
12
6-7
Tue
7/13/2021
6:15 PM
The Hogs
Hackers
FF
5
10
6-8
Tue
7/20/2021
7:30 PM
The Hogs
Gallaghers
FF
7
10
6-9
Thu
7/22/2021
6:15 PM
The Hogs
Collins Paint
FF
13
11
7-9
Playoffs
Thu
8/3/2021
6:15 PM
The Hogs
Hackers
FF
6
16
7-10
Tue
8/10/2021
6:15 PM
Phightins
The Hogs
FF
16
15
8-10
Tue
8/17/2021
6:15 PM
The Hogs
Gallaghers
FF
9
3
9-10
Thu
8/19/2021
6:15 PM
The Hogs
Routine Hops
FF
4
14
9-11
Total
220
205
15
Location - Phoenixville
FF = Friendship Field - 501 Franklin Ave
VP = Veterans Park - 194 Mowere Rd
---
Watch the Legend At Work
Areno's 41st Season Video


Hogs Legend Areno
---
Visit the Hogs Softball Hall of Fame

Hogs Softball Stats

Season Reviews

Hall of Fame Nights

Classic Hogs Softball Publications

Harlan's Game
DIRT'S PHILLIES OPENING DAY
LONGEST RUNNING HOG EVENT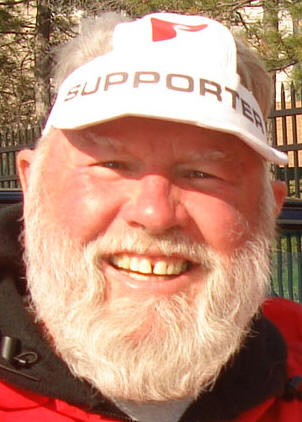 47th Annual 2021
Dirt's Phillies Opening Day
Cancelled

See You in 2022
---
45th Annual
Dirt's 2019 Phillies Opening Day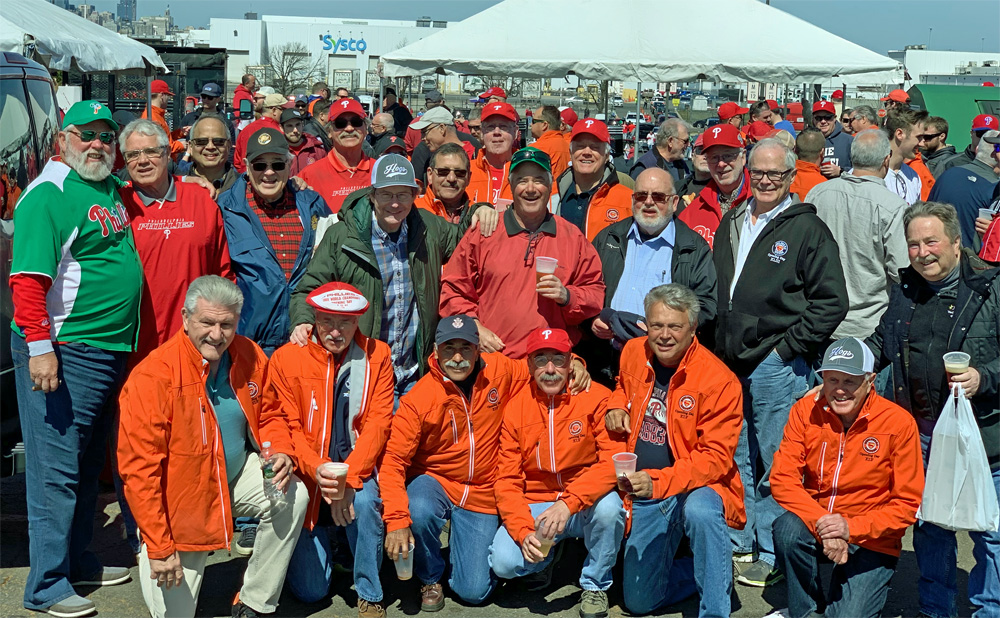 2019 Opening Day Group
Brand New Pictures
CLASSIC PICTURE MUSEUM
ALL THE CLASSIC HOG PICTURES
CLASSIC VIDEO MUSEUM
ALL THE CLASSIC HOG VIDEOS
GRAND EVENTS
GRAND OPENING, REOPENING, CLOSING, RESURRECTION
HOGS PUBLICATIONS
Hogs Publications

HOG ROCK NEWS
Volumes 1-14

Hogs Publications
All the Classics

Find-a-Hog

Hog Rock Archives

Contact Us

HOG ROCK CAFE

CONTENT BY
Webmaster Zip


ESTABLISHED
April 1, 2000