41st Season
Hogs 2021 Schedule/Results
Day
Date
Time
Visitors
Home
Location
Game Result
Hogs
Record
Hogs
Opp.
Tue
4/20/2021
6:15 PM
The Hogs
Gallaghers
FF
11
14
0-1
Tue
4/27/2021
6:15 PM
Hackers
The Hogs
FF
12
14
0-2
Tue
5/11/2021
6:15 PM
Collins Paint
The Hogs
FF
6
8
0-3
Thu
5/20/2021
6:15 PM
Routine Hops
The Hogs
VP
14
16
0-4
Tue
5/25/2021
6:15 PM
Brew Crew
The Hogs
VP
21
6
1-4
Tue
6/1/2021
6:15 PM
Go Green
The Hogs
VP
9
13
1-5
Thu
6/10/2021
6:15 PM
The Hogs
MKS
VP
9
8
2-5
Tue
6/15/2021
7:15 PM
The Hogs
Phightins
FF
21
5
3-5
Thu
6/17/2021
7:30 PM
Phightins
The Hogs
FF
21
17
4-5
Thu
6/24/2021
6:15 PM
Routine Hops
The Hogs
FF
5
9
4-6
Tue
6/29/2021
6:15 PM
The Hogs
Go Green
FF
11
1
5-6
Tue
6/29/2021
7:30 PM
The Hogs
Brew Crew
FF
16
3
6-6
Thu
7/8/2021
6:15 PM
The Hogs
MKS
VP
4
12
6-7
Tue
7/13/2021
6:15 PM
The Hogs
Hackers
FF
5
10
6-8
Tue
7/20/2021
7:30 PM
The Hogs
Gallaghers
FF
7
10
6-9
Thu
7/22/2021
6:15 PM
The Hogs
Collins Paint
FF
13
11
7-9
Playoffs
Thu
7/29/2021
6:15 PM
The Hogs
Hackers
FF
Total
185
157
28
Location - Phoenixville
FF = Friendship Field - 501 Franklin Ave
VP = Veterans Park - 194 Mowere Rd
---
---
Hogs Finish Regular Season 7-9
Despite missing HHOF players Booch and Nixon, the Hogs managed to win their final regular season game 13-11 to finish the regular season 7-9. The Hogs were sparked by Hitting Machine Bob Speer who contributed 5 RBIs and Spuds who got his second hit of the season using the textbook swing that made him the star of his over-60 league. Playing in his 27th season, this is Spud's first two-hit season since 2007.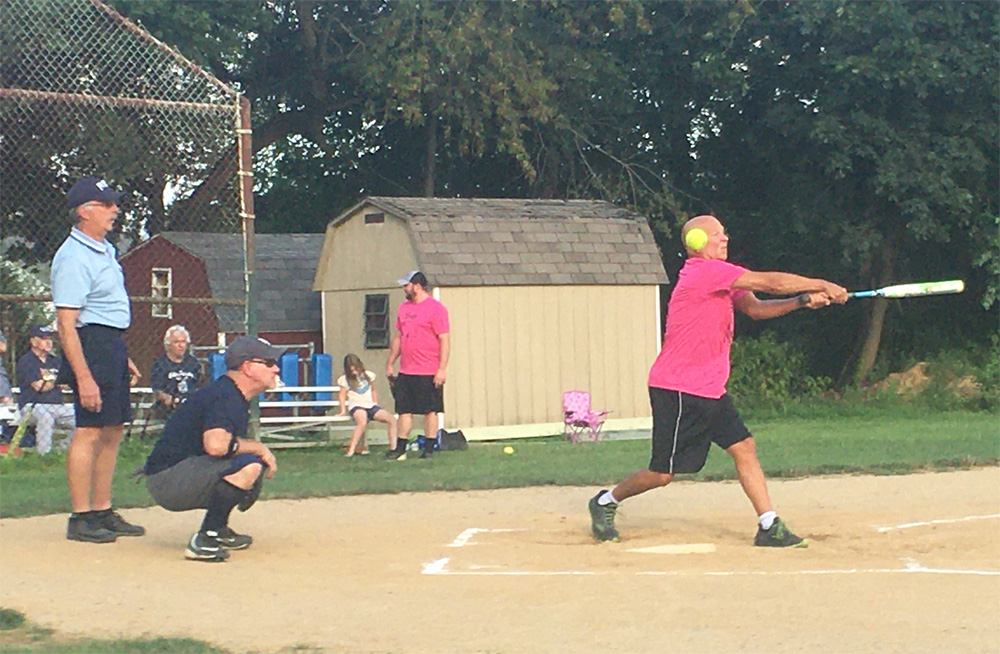 Textbook Swing
The Hogs now enter the playoffs with the batting title and MVH up for grabs. Brandon has led the batting race all year, but is closely followed by Booch, Bob Speer and Nixon. And a late spurt has put Manager Rugh back in the MVH race, attempting to win the title for the sixth straight year. Ryan Yenchick appears to have the upper hand in the Rookie of the Year race, but both Jon Kauffman and Joe Bucci have compiled solid bar stats. The playoffs are double-elimination so we could have several more games before the 2021 campaign ends.
---
Hogs Stumble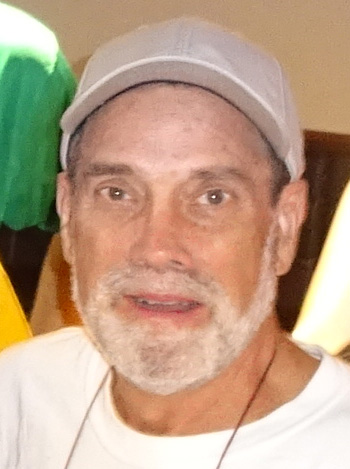 Hog Correspondent Areno
After seeing the lofty Hog stats on the Hog Softball web page, this correspondent realized that there was a least a seven-way race for this years batting title and perhaps the MVH for 2021 !!
Upon arrival at the game, with only three more remaining in the regular season, one would think that there would be a robust competition for the batting crown. What he witnessed was a lackluster effort as we only plated 4 runs in a disappointing loss that dropped the Hogs below .500
Booch, Bear, and Nixon were no shows. (Perhaps taking a page out of Zip's strategy in the previous millennium.) hoping that the Hog leaders BA's would fall in their absence. eg. Brandon's avg. fell even though he had two hits. Will the 2021 Batting Title be awarded to a Hog who backs into the top slot l
ike Zip made famous by deliberately missing AB's.?
Respect to Straw who held down two positions on defense and to Crew who's F-7 would have gone yard in any of the other stadiums we play at. Ryan was awarded an outfield assist on a bang-bang play at the plate. (even though the throw was assisted from Crew.) Noel making a sweep tag that Booze would have been proud of. Derek, John, Billy and Dave helped the score remain close with their defense against a good hitting team.
As the season winds down, there is a wide-open chance for any Hog that shows the fortitude, grit, and desire that it takes to take home the coveted batting title. Go Hogs !!
Respectfully submitted,
Areno#14

HHOF
MVH
Hog Wild Treasurer
---
Just Another Sweep for the Hogs
Pre-game festivities inspired the Hogs to reach .500 for the first time in 2021. With bar attendance before the game increasing each week, Hall of Famer Jeff Nixon led a significant rule change to have pre-game bar appearances count as half a post-game bar appearance. With several belts under their belts, the Hogs then proceeded to bludgeon Go Green and Brew Crew 11-1 and 16-3. With four games left, the red-hot Hogs are ready for a long run in the playoffs.
---
Hogs On Fire
The Hogs won their third straight improving to 4-5. They shocked Phightins twice in a week with 21-run outbursts in both games. In the second game for the first time in the Hogs 41-year history, they gave up 11 runs in the first inning. Undaunted, they came back to win a 21-17 thriller. The 2021 Hogs have been led by their Hall of Fame veterans Brandon Slavinski, Chris Rugh, Jeff Nixon and Josh Bucci. From an 0-4 start, the Hogs are now approaching .500 and are the hottest team in the league.
---
Spuds Spark Hogs
Spuds sparks Hogs but it's not enough in respectable 13-9 Loss.

Hogs legend Spuds adds to potential HHOF resume going 1-2 and taking the first walk of any Hog in 2021.
Lots of talk from Spuds about how good he's playing in his "other league". It later came out that his "other league" is a 60 and over seniors league. At 62, he's the 'young gun'.
At the bar, in a true Hogs move, Spuds happily took the last slice of pizza, leaving Nixon high and hungry.

Hogs now 1-5 but +1 run differential.
---
Hogs Slug 'Brew Crew' 21-6 for first win of the season
Hogs Slug 'Brew Crew' 21-6 for first win of the season, 4 inning mercy rule vs. one of the worst teams we've ever seen.
Many are whispering "dark horse playoff team?" - Is this the best 1-4 team in softball history?
The Hogs are 1-4 despite +6 run differential on the season

Brisbin - Brings girlfriend and goes 3-3!

Great showing at the bar, everyone but Noel!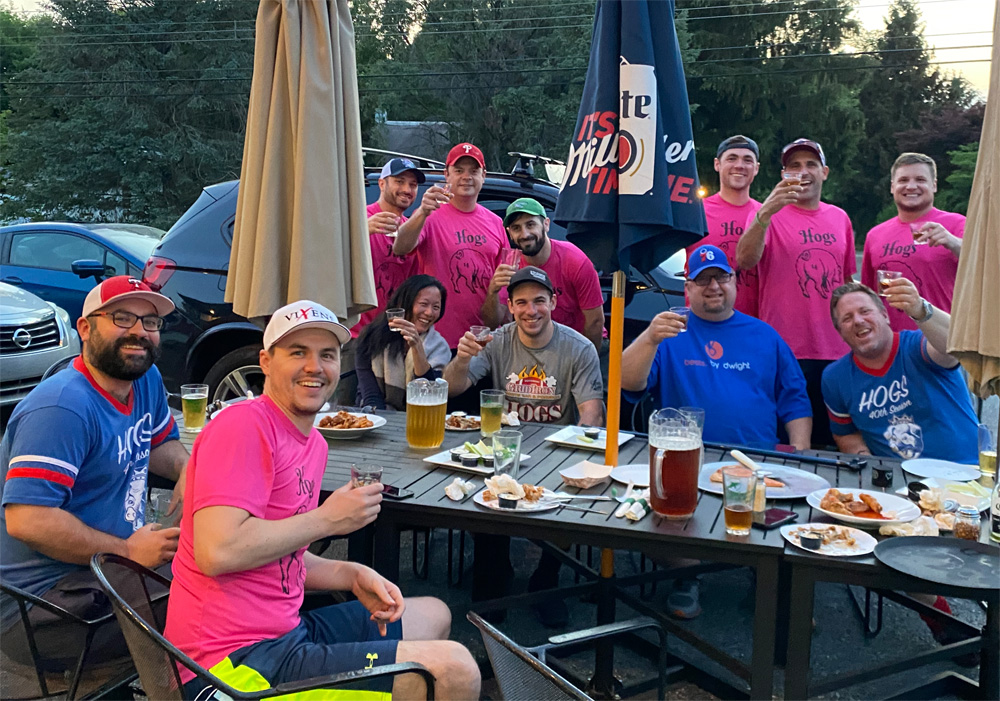 2021 Hogs at Grid Iron